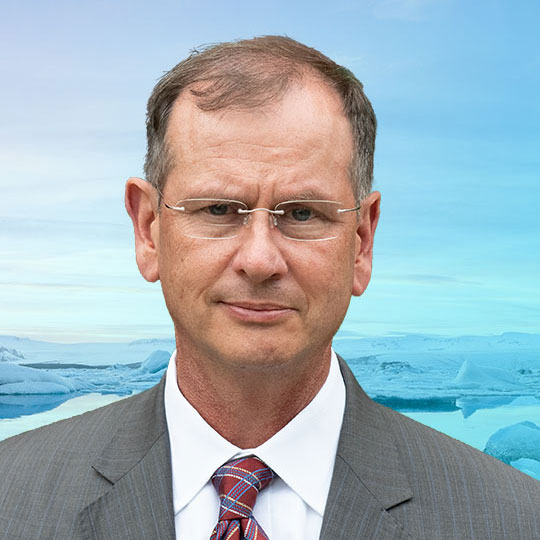 November 10, 2020
University of Alaska Arctic Research Director appointed to the US Arctic Research Commission
Washington, DC – On November 10, 2020, President Donald J. Trump appointed Maj. Gen. Randy "Church" Kee, United States Air Force (ret) to the United States Arctic Research Commission (USARC), an independent federal agency that advises the President and Congress on Arctic research.
Church is the Executive Director of the Arctic Domain Awareness Center (ADAC) at the University of Alaska, a Department of Homeland Security Science and Technology Office of University Programs Center of Excellence in Maritime Research, a position he's held since January 2016.
During his 30-year military career in the United States Air Force (USAF), General Kee led at the Squadron, Group, Wing and Air Operations Center levels. His full USAF biography is available here.
Church is a Global Fellow at the Woodrow Wilson Center Polar Institute, a Network Member of the Canadian-hosted North American and Arctic Defense and Security Network at Trent University, Peterborough Ontario, and the U.S. designated lead for a technology working group for the U.S. Navy Office of Naval Research International Cooperative Engagement Program for Polar Research. Church also leads ADAC and associated university efforts in conducting Arctic Senior Leader Summits and Symposiums for Alaska Command, a Sub-Unified Command of U.S. Northern Command headquartered at Joint Base Elmendorf-Richardson Alaska. Finally, he is also the co-chair of the State of Alaska Civilian Armed Services Team (ACAST) an advisory board to the Governor of Alaska on defense and security matters.
"It is truly an honor and privilege to serve on the Commission and I am deeply appreciative of the confidence of Chairman Harrison and the President, and looks forward to supporting the important work of the Commission in advising the President and the Congress on the Arctic Research enterprise." said Kee.
The USARC's mission is to develop and recommend US Arctic research policy to the President and Congress and to build cooperative links in Arctic research within the federal government, with Arctic residents, the State of Alaska, researchers, and international partners. Visit the USARC at www.arctic.gov and subscribe to our daily electronic newsletter, the "Arctic Update," which provides news and information about recent events, upcoming conferences, and research initiatives.