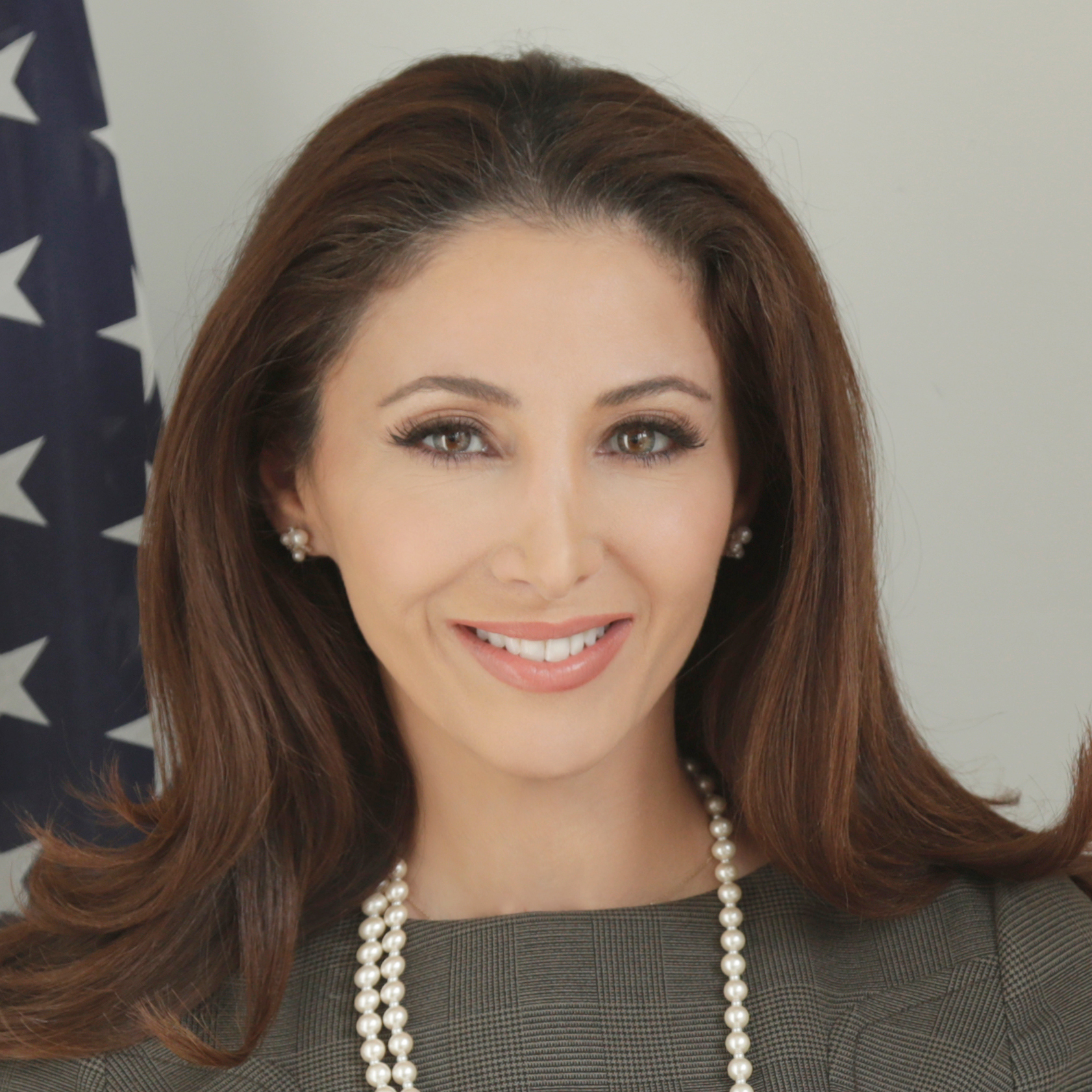 Julia Nesheiwat, PhD
USARC Commissioner
TERM TERMINATED: September 2, 2021
REPRESENTATION: Academic/Research
FOCUS: Energy, Climate, National Security & Diplomacy
Julia Nesheiwat
US Arctic Research Commission
4350 N. Fairfax Drive
Suite 510
Arlington, VA 22203

Dr. Julia Nesheiwat was appointed by the President to the United States Arctic Research Commission on December 30, 2020. She is currently serving as a Distinguished Fellow at the Atlantic Council focused on Arctic energy and climate issues.
Dr. Nesheiwat brings to the USARC a focus on building public-private partnerships, and over 20 years of experience in energy resources, critical infrastructure, climate, environmental science, and national and homeland security serving in the Bush, Obama, Trump, and Biden Administrations.
Her Arctic expertise includes managing the Department of Homeland Security's first 'Arctic Strategic Approach to Advance U.S. Interests in the Region.' It focused on persistent presence, and strengthening access, response, and resilience in the Arctic, as well as promoting arctic governance and a rules-based order through national and international cooperation. She also regularly engaged senior officials from all the Arctic Council nations on energy resources, climate, and critical infrastructure protection (CIP). Additionally, she worked with the CEO's of multinational energy and transportation firms to include BP, ExxonMobil, Gazprom, Rosneft, ConocoPhillips, Chevron, Equinor ASA, Total, and Shell regarding their interests in the Arctic.
In February 2020, Dr. Nesheiwat was appointed as the 10th Homeland Security Advisor to the President. She managed natural disasters and critical infrastructure protection, coordinated an assessment to the U.S. National Strategy for the Arctic Region.  She worked with the US Coast Guard and US Navy to build the US arctic fleet.  Other duties included combating human trafficking, wildlife, and environmental crimes. Dr. Nesheiwat also developed a national resilience strategy to address energy, technology, climate change, the Arctic region, and CIP.
In July 2019, she was appointed Florida's first Chief Resilience Officer by Governor Ron DeSantis and created a cabinet-level office to address the impacts of climate change, to include natural disasters, rising sea levels, and preparedness across multiple sectors.
Dr. Nesheiwat has extensive prior experience as a combat veteran and intelligence officer in the U.S. Army, serving consecutive tours in Afghanistan and Iraq, as an academic, and as a senior executive in cabinet-level agencies, including the Department of State and Director of National Intelligence.
From 2015 to 2019, she served as Deputy Special Presidential Envoy for Hostage Affairs, where she strengthened diplomatic efforts to secure the safe return of Americans held hostage overseas. Working closely with the families of American hostages, foreign governments and the interagency Hostage Recovery Fusion Cell, Dr. Nesheiwat represented the United States on hostage-related issues.
From 2011 to 2014, Dr. Nesheiwat served as Deputy Assistant Secretary of State in the Bureau of Energy Resources. Prior positions, while in State Department, include serving as Chief of Staff for the U.S. Special Envoy for Eurasian Energy, as an International Affairs Fellow on the Council of Foreign Relations, focusing on U.S.-East Asia clean energy technology and climate/resilience research, and as a Senior Advisor for the Undersecretary for Economic, Energy & Environmental Affairs.
 Earlier in her career, Dr. Nesheiwat served, from 2005 to 2008, as Chief of Staff for Policy in the Office of the Director of National Intelligence (supporting Ambassador John D. Negroponte and Admiral Mike McConnell). From 2004 to 2005, she was Senior Policy Analyst on the U.S. Presidential Commission, with a focus on weapons of mass destruction.
 Dr. Nesheiwat completed her Ph.D. titled, "Case Study Assessment of Post-Disaster Reconstruction:  Resilience & Energy Policy in the Age of Climate Change," in the Department of Science and Engineering at Tokyo Institute of Technology. Additionally, Dr. Nesheiwat earned a BA from Stetson University and a MA from Georgetown University. She's served as visiting professor at the U.S. Naval Post-Graduate School, a lecturer at the University of California San Diego and at Stanford University. She is a speaker of Arabic and Japanese.