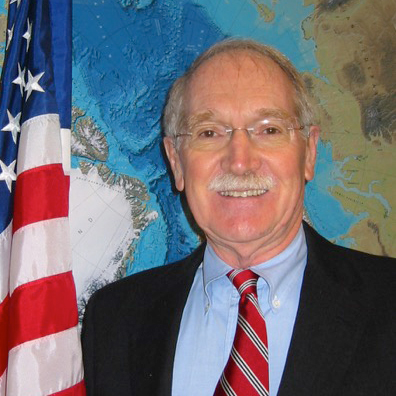 Hon. George B. Newton
Former USARC Chair
George Newton was born in Fall River, Massachusetts on May 23, 1935.  He graduated from Brown University with a degree in Electrical Engineering in 1958 and was commissioned as an Ensign in the U.S. Navy under the NROTC (Regular) Program.
Following service in destroyers, he attended the Navy's Submarine School and then served in a diesel submarine.  In 1962‑63 he attended the Navy's Nuclear Power School. Subsequently, he served in two strategic nuclear submarines, completing nine strategic deterrent patrols.
The Navy then selected him to attend Rensselaer Polytechnic Institute in Troy, New York, where he earned the degree of Master of Science in Management and Industrial Engineering.  Mr. Newton next served as Executive Officer during the construction and early deployments of the nuclear attack submarine, USS TREPANG (SSN 674), where he planned and helped direct a research deployment under the Arctic Ocean sea ice.  The ship was awarded the Meritorious Unit Commendation for its achievements during the cruise.
Following a period working under Admiral H. G. Rickover at the Navy's Nuclear Propulsion Directorate, Mr. Newton was assigned as Commanding Officer, USS TINOSA (SSN 606). During this period, the ship was awarded the Meritorious Unit Commendation by the Secretary of the Navy for its outstanding operational performance during a Mediterranean Sea deployment.  In 1975, Mr. Newton commenced a tour of duty as the Force Operations Officer on the staff of the Commander Submarine Force, U.S. Atlantic Fleet.  In this position he planned, organized, and controlled all Arctic research deployments by submarines on the East Coast.
Finally, in 1978 he was assigned to the staff of the Chief of Naval Operations in the Attack Submarine and Naval Warfare Divisions. While on the CNO's staff was he the Program Sponsor for the Navy's Submarine Arctic Program.
Mr. Newton retired from active duty as a Captain (0‑6) in 1981.  During his military career he was awarded the Legion of Merit (twice), the Meritorious Service Medal, and the Navy Commendation Medal.
Since leaving Naval Service, Mr. Newton has worked in the professional services field, specializing in Arctic research and cold weather operations.  His Arctic research efforts brought him recognition not only in military circles, but also within academic and commercial Arctic interests as well.  In 1989, in recognition of and to exploit his knowledge of Arctic matters, he was appointed to the Group of Advisors of U.S. Arctic Research Commission.  In 1991, his expertise was sought when he was appointed an ad hoc Sea Ice Data Committee, formed to analyze submarine Arctic ice profiles, making those data available for the study of global warming.
In 1992, President Bush appointed him to a four-year term as a member of the U.S. Arctic Research Commission.  Subsequently, in 1996 and 2000 he was reappointed to second and third terms and elevated to the position of Chair by President Clinton.
Long an advocate for using submarines in the Arctic for civilian research, Mr. Newton conceived and was the principal organizer behind the nuclear submarine USS PARGO's very successful demonstration Arctic Science cruise in 1993. Following that, he negotiated an agreement for Arctic Ocean Data Collection between U.S. civilian science agencies (NOAA, NSF, USGS, and ONR) and the operational Navy called the SCICEX Program which ran through 1999.  In 1997 he identified and negotiated the release to the science community of over 230,000 nautical miles of previously classified Arctic Ocean bathymetry data.  He later negotiated a framework agreement with Canada that has enabled a greater sharing of each country's Arctic research logistics resources.
In 2002, recognizing the improving accessibility of the Arctic Ocean, Mr. Newton recommended to the Maritime Safety Division of the National Imagery and Mapping Agency (NIMA) that the "Notice to Mariners" system be expanded to cover the Arctic.  He subsequently developed and gained Agency and DOD approval of a reporting and data display system which was implemented for public/international use in early 2003. In 2006, Newton hired Dr. John Farrell to serve as USARC's Executive Director, succeeding Dr. Garrett Brass.
Mr. Newton was a Senior Engineer at Planning Systems Inc., in Reston Virginia.
Mr. Newton is an ordained elder in the Presbyterian church.  He is also a member of the Arctic Institute of North America and the COSMOS Club, and the Navy Submarine League, where has served on the Board of Advisors.
Mr. Newton and his wife Margaretha (Peggy) have a son, James, who is a lawyer specializing in human rights law and international policy, a daughter-in-law, Kimberly, and a granddaughter Margaret.