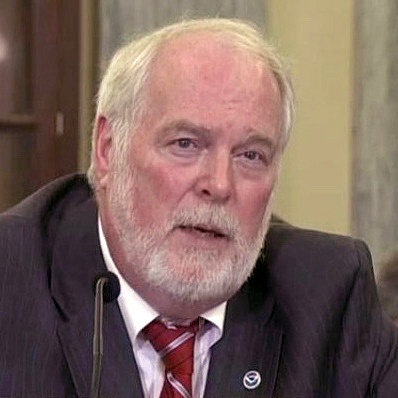 David M. Kennedy
USARC Commissioner
APPOINTED: December 23, 2020
REAPPOINTED: September 22, 2021
TERM EXPIRES: February 26, 2025
REPRESENTATION: Academic/Research
FOCUS: Arctic Observing, Sea Ice Forecasting, Indigenous Knowledge and Cultures, Educating Arctic Researchers
David M. Kennedy
1209 Whippoorwill Road
Madison, VA 22727

David M. Kennedy was appointed to the United States Arctic Research Commission by President Donald J. Trump on December 23, 2020. On March 3, 2021, President Joe Biden designated Mr. Kennedy Chair of the USARC, succeeding Jon Harrison.
Mr. Kennedy has over 50 years of experience and leadership in science, research, environmental management, and development of legislation and national initiatives. He's currently a Global Fellow of the Wilson Center's Polar Institute, a Board Member of the Friends of the World Maritime University, and the Chairman of the External Advisory Board of the School of Marine Science and Ocean Engineering at the University of New Hampshire.
After six years as a U.S. Air Force pilot based in Alaska, Mr. Kennedy worked at the University of Alaska's Geophysical Institute in Fairbanks as the Research Facilities Director, and later the Director of the Spilled Oil Research Team focusing on Arctic pollution issues.
This led to a 30-year career at the National Oceanographic and Atmospheric Administration (NOAA), culminating as the Senior Policy Advisor for the Arctic region where he addressed policy goals, objectives, and programs until 2020.
He previously served as NOAA's Deputy Under Secretary for Operations. As NOAA's Chief Operating Officer, he was responsible for the day-to-day management of NOAA's national and international operations for ocean and atmospheric services, research and coastal and marine stewardship.
Mr. Kennedy is a recognized national expert in the field of emergency pollution response; contingency planning; innovative technology development; matrix and collaborative program management; and a suite of coastal issues focused on development, climate change, energy, and coastal resiliency.
He played a significant role in the federal government's response to most of the major oil pollution events of the past three decades, including the Exxon Valdez and New Carissa oil spills, and international events such as the IXTOC I oil-well blowout, Galápagos Island, and Persian Gulf War spills.
Shortly after serving as science coordinator for the Exxon Valdez oil spill, Mr. Kennedy was asked to head the new Office of Response and Restoration in Washington, DC. This position quickly expanded to include management of national programs for coral protection, restoration, and conservation; tides and water levels; brownfields; and cleanup of the Pribilof Islands.
Throughout his career, Mr. Kennedy developed strong ties with other federal agencies, states, local jurisdictions, and NGOs. He was active in cooperative projects with EPA, USCG, the Corps of Engineers, U.S. Navy, Minerals Management Service, USGS, and 34 states. Mr. Kennedy has international experience as a U.S. delegate to the International Maritime Organization Convention and has worked with the International Tanker Owners Pollution Federation.
In 2010, he served as NOAA's commander for the agency's response to the Deep Water Horizon/BP oil spill. In this role, Mr. Kennedy oversaw the development of a NOAA-wide organizational structure to support the agency's responsibility as the lead science agency. He successfully represented NOAA at frequent briefings and discussions with state government officials, local community leaders, and staff at other agencies.
His most recent work, prior to his initial retirement from NOAA in January 2014, was in the role of Deputy Under Secretary for Operations at NOAA. In addition to the operational lead for the bureau, he had the lead on all Arctic-related issues on behalf of NOAA and the Department of Commerce. This role included leading the agency on drafting and implementing the National Strategy for the Arctic Region, the development of the Integrated Arctic Management Report, developing and implementing the National Ocean Policy, representing NOAA and the Department of Commerce on the Alaskan Interagency Working Group, working closely with Environment Canada on Arctic related issues, supporting the Arctic Council, and developing and implementing the NOAA/USCG Maritime Strategy.
With a long history of working with Congressional staff and committees, Mr. Kennedy provided testimony in a number of hearings and continue to support Congressional requests for technical assistance.
Coming out of retirement in May 2014, Mr. Kennedy returned to NOAA in the role of Senior Policy Adviser for the Arctic Region in NOAA. In this role he addressed NOAA-wide Arctic policy goals, objectives, and program issues. He provided guidance and direction on a broad scope of Arctic regional policy as well as support on major legislation, budget and programs related to the Arctic. Additionally, Mr. Kennedy coordinated Arctic activities on priority issues established by NOAA senior leadership and work independently to develop, coordinate, and helps implement new policy, programs, and activities within the Department and throughout the Administration. Mr. Kennedy participated in activities supporting NOAA's Arctic Vision and Strategy as well as in interagency working groups to represent policies, objectives, and decisions of NOAA leadership and to ensure close coordination and cooperation among Federal agencies, stakeholders, and Congressional staff.
Mr. Kennedy has been awarded the Presidential Rank Award an unprecedented three times, in 2001 (meritorious rank), 2009 (meritorious rank) and in 2013 (distinguished rank). In 1990, Mr. Kennedy was awarded the NOAA Administrator's Award, for outstanding scientific support coordination on the Exxon Valdez spill. In 2005 he received a NOAA Bronze Medal for superior and tireless leadership in promoting cross-NOAA coordination. In 2009, he was a member of a group awarded the Dept. of Commerce Gold Medal for the successful completion of environmental cleanup and historical preservation of Alaska's Pribilof Islands.
Mr. Kennedy is a native of Oskaloosa, Iowa, and received a bachelor's degree in anthropology from the University of Northern Colorado.