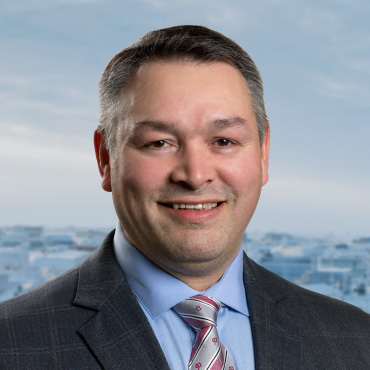 Crawford Patkotak
USARC Commissioner
TERM EXPIRED: February 26, 2021
REPRESENTATION: Indigenous
FOCUS: Arctic Industry and Alaska Indigenous Interests
Crawford Patkotak
US Arctic Research Commission
4350 N. Fairfax Drive
Suite 510
Arlington, VA 22203

Commissioner Crawford Patkotak (Ahkivgak), of Utqiagvik (formerly Barrow), Alaska, was appointed to the U.S. Arctic Research Commission by President Donald J. Trump on December 23, 2020. 
Consistent with the Arctic Research Policy Act of 1984, as amended, he was selected from among Indigenous residents of the Arctic who are representative of the needs and interests of Arctic residents and who live in areas directly affected by Arctic resource development.
Mr. Patkotak is the chairman of the board of the Arctic Slope Regional Corporation (ASRC) and the executive vice president of stakeholder engagement. ASRC is a private for-profit corporation that is owned by and represents the business interests of its ~13,000 Iñupiat shareholders in villages distributed across the North Slope of Alaska. It's the state's largest Alaska-owned and operated company, and the most profitable of the Alaska Native corporations formed under a 1971 act of Congress, with annual revenues of $3 billion in 2019.
Since 2008, Mr. Patkotak has also been the whaling captain for the Patkotak Crew, and he currently serves as vice chairman of the Alaska Eskimo Whaling Commission.
He has served on the North Slope Borough Assembly, the board of directors of the Barrow Utilities and Electric Cooperative, the board of the Barrow Whaling Captains Association, as a member of Barrow City Council, and a member of the Board of Trustees for Ilisagvik College.
Mr. Patkotak was born in 1966 in Barrow, Alaska, and was raised by Susan and Simeon Patkotak, Sr. He grew up in Barrow and at Peard Bay, hunting and gathering. He started whaling when he was about eight years old. His father was a successful whaling captain, and his mother came from the Ahkivgak whaling family, where she learned from her grandfather, Taaqpak.
Mr. Patkotak currently lives in Barrow with his wife Laura and their five children. He also has four grandchildren.