Private Sector Transportation, Infrastructure, Assets, Response, Capacity, and Development in the Arctic, May 30, 2012, Seattle, WA. A recently-held Arctic transportation workshop in Iceland highlighted the need to better understand private sector transportation infrastructure and assets, recognizing industry's role in the responsible development of resources, response and supportive infrastructure. As a follow-up to its efforts to inventory and map Arctic transportation infrastructure, the Institute of the North is hosting a workshop at the Bell Harbor International Conference Center in Seattle, Washington that focuses on three critical areas: private sector assets and infrastructure in the Arctic, staging areas outside the Arctic that support Northern development, and vessels and technology that are difficult to map but need to be measured for future decision-making. Participants include industry representatives, technical experts, researchers, Coast Guard and other response personnel.
10th International Symposium on Cold Regions Development (ISCORD 2013) (June 2-5, 2013) (Anchorage, Alaska) The International Association for Cold Regions Development Studies (IACORDS) and the Technical Council on Cold Regions Engineering of the American Society of Civil Engineers (ASCE) will host a conference on "Planning for Sustainable Cold Regions." Special Keynote Sessions each day include "Bridging the Gap Between Climate Change Science and Engineering Practice"; "The Challenges of the Debris from the 2011 Tohoku Earthquake in Japan"; and "Energy in Alaska - Current and Future Projects."
AGU Science Policy Conference, June 24-26, 2013. (Washington, DC)

Hundreds of Earth and space scientists, students, policymakers, and industry professionals will discuss key Earth and space science topics that address challenges to our economy, national security, environment, and public safety. This meeting will focus on the science that helps inform policymakers' decisions related to energy, natural hazards, technology and infrastructure, climate, oceans, and the Arctic (see 6/25 forum titled "US Government Investment in Arctic Change Research"). The event is hosted by American Geophysical Union (AGU), a Washington, D. C.-based international nonprofit scientific association.
5th Symposium on the Impacts of an Ice-Diminishing Arctic on Naval and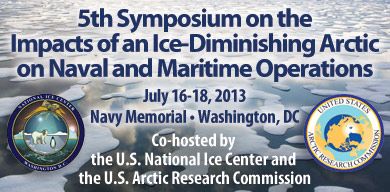 Maritime Operations, July 16-18, 2013 (Washington, D.C.). The U.S. National/Naval Ice Center (NIC) and the U.S. Arctic Research Commission (USARC) co-host this follow-on symposium to address the changing state of Arctic sea ice and associated environmental conditions vis-a-vis emerging or expected naval, maritime, and associated activities and operations in the region. Invited speakers include nationally and internationally recognized experts on Arctic observations, climate change, and maritime operations.
7th International Workshop on Ice Drilling Technology (September 9-13, 2013) (Madison, WI). The event is sponsored by the Ice Drilling Program Office- Ice Drilling Design and Operations (IDPO-­-IDDO), International Partnerships in Ice Core Sciences (IPICS), International Glaciological Society (IGS). Following in the footsteps of the sixprevious ice drilling technology workshops held between 1974 and 2006, the Seventh International Workship on Ice Drilling Technology will take a comprehensive look a the latest innovations in ice drilling technology, including ice coring, borehole logging, subglacial sampling, core logging and handling, and field logistics.
Arctic Exchange (September 16-17, 2013) (Stockholm). The Exchange brings an evolutionary concept in networking and business information delivery - one that is designed to meet specific business objectives during two days for promoting cooperation, coordination, and interaction among the Arctic communities addressing key issues such as sustainable business development and regional protection. As more and more data has confirmed that the Arctic is extremely rich in oil and gas reserves, locations such as Greenland and the Barents Sea have seen a huge growth in interest from the hydrocarbon industry. Despite the opportunities on offer, there are many challenges that may hinder operations. The presence of cold temperatures, ice and a lack of infrastructure pose logistical problems that make exploration expensive and risky.
The 2013 Arctic Energy Summit, October 8-10, (Akureyri, Iceland). The 2013 Arctic Energy Summit is a multidisciplinary event expected to draw together several hundred industry officials, scientists, academics, policymakers, energy professionals and community leaders to collaborate and share leading approaches on Arctic energy issues. Building on the work done at the highly successful 2007 Arctic Energy Summit and Technology Conference, the 2013 Summit will address energy extraction, production and transmission in the Arctic as it relates to three thematic areas: richness, resilience and responsibility. The 2013 Summit will be hosted by the Institute of the North in cooperation with local host Arctic Portal.
The Inaugural Meeting of The Arctic Circle, October 12-14, 2013 (Reykjavik, Iceland). The inaugural Arctic Circle will be held October 12-14, 2013. Subsequent Arctic Circle gatherings will be held in a different Arctic location each year, so that participants can become familiar with the challenges, needs and opportunities presented by these unique environments. The agenda for the first Arctic Circle gathering will include plenary sessions with international leaders on emerging topics of interest, such as: Sea ice melt and extreme weather; Security in the Arctic; Fisheries and ecosystem management; Shipping and transportation infrastructure; Arctic Resources; and Tourism.
Community Oil Spill Response in Bering and Anadyr Straits, (November 7-8, 2013) (Anchorage, Alaska). This workshop will bring together a diversity of stakeholders to advance a collective dialog to learn more about and respond to community desires to be part of oil spill first-response efforts that help protect food security and other local resources; come to agreement on the multiple roles local community members can play in responding to oil spills; and create an action plan for moving forward on this topic. The workshop is sponsored by the Wildlife Conservation Society.
Arctic Cities, Global Processes, and Local Realities, December 2-4, 2013 (Rovaniemi, Finland) The conference is organized jointly by the City of Rovaniemi and the Arctic Centre of the University of Lapland, Finland. The goal of the conference is to present the latest research scientific knowledge about the global processes as they become local realities. Even if the Conference is scientific in orientation, it aims to bridge science and knowledge into action by bringing top scholars to share their research results, and to organize joint discussion with the leaders of the Arctic Cities. Sessions include: Rovaniemi Process: past, present, future; Arctic responses to global environmental problems; people and extractive industries; tourism in the Arctic; the Arctic in global economy; climate change in the Arctic; indigenous peoples in cities; and, Arctic global flows. Cross cutting themes include: Arctic cities and global processes; management and governance in the Arctic; and, Arctic together with non-Arctic.