Future Events
NOAA's Hydrographic Services Review Panel meeting, May 22-24, 2012 in Anchorage, Alaska. This federal advisory committee will discuss improvements of navigation services that NOAA provides for Alaska and the Arctic. Topics include new nautical charts and navigation safety, emerging commercial shipping needs, accuracy of land elevation data for coastal management, and natural hazard warning and response for the Alaska/Arctic region. The public is invited, and can provide comments during the May 23 and 24 afternoon sessions. For more information, click here.
The Tenth International Conference on Permafrost, June 2012. The conference will be held in Tyumen, Russia, and is organized and hosted by Russia. The last conference was held in Fairbanks, Alaska, in 2008. Click here.
15th International Congress on Circumpolar Health, August 5-10, 2012. This event is sponsored by the Centers for Disease Control and Prevention, the American Society for Circumpolar Health, and the International Union for Circumpolar Health. The forum will consider community participatory research and

indigenous research; women's health, family health, and well-being; food security and nutrition; social determinants of health; environmental and occupational health; infectious and chronic diseases; climate change health impacts; health service delivery and infrastructure; and behavioral health. Click here.
98th meeting of the US Arctic Research Commission. Aug. 9-10. Fairbanks, AK. More info coming soon.
The Arctic Imperative Summit, August 24-28, 2012. The summit will be hosted by Alaska Dispatch and will bring together leading voices in this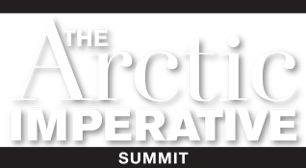 conversation, including residents from the small villages that comprise Alaska's coastal communities, state, national and international leaders, the heads of shipping and industry, as well as international policymakers and the news media. The goal of the summit is to sharpen the focus on the policy and investment needs of Alaska's Arctic through a series of high level meetings, presentations, investor roundtables and original research. Click here.
Arctic/Inuit/Connections: Learning from the Top of the World , October 24-28, 2012. The 18th Inuit Studies Conference, hosted by the Smithsonian Institution, will be held in Washington, DC. The conference will consider heritage

museums and the North; globalization: an Arctic story; power, governance and politics in the North; the '"new" Arctic: social, cultural and climate change; and Inuit education, health, language, and literature. For more information, click here.